New 'Confirmed by Phone' Label in Google Local Panel
New 'Confirmed by Phone' Label in Google Local Panel
Google 'Confirmed by Phone' label in the local panel may add trust to your local business listings
Google is showing a 'Confirmed by Phone Call' label in local panel listing results. It shows how long ago it confirmed the local details of the business. This Local Panel Label seems to be based on the Google Duplex calling businesses to verify their business operation details.
The below 'Confirmed by Phone Call' label example spotted by Saijo George was for the local business listing named Supple. Also, you can see, it stated that the business listing was "confirmed by phone call 8 weeks ago."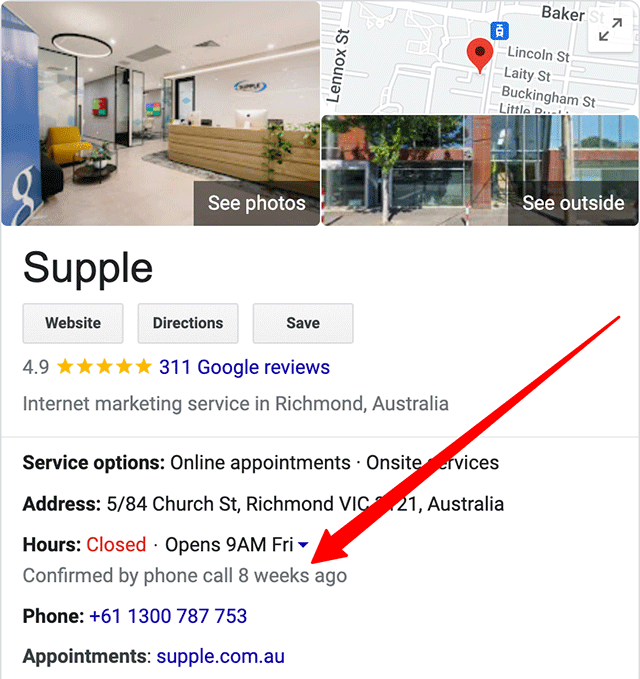 Google Duplex Calling Businesses
Possibly it's the AI-enabled phone call Google automatically places to businesses to confirm that the business is open, that the phone number still works and the hour of business operations are correct. This may be powered by Google Duplex or humans at Google or both.
How to Get the 'Confirmed by Phone Call' Label
Now, you may have the question, how can you get this label added to your local business listing? The fact is, you do not have control over this local panel label. For this, Google has to call you, you have to answer and respond to the call and then Google has to decide if they want to add the label to your local listing.
It's not clear if this label feature will stay and actually improve searchers' trust in the local business listing. But it's really cool to see the various features of Google such as Duplex, Business Profiles, Web Search, etc come together in a single interface.
What do you think about this new Google Local Panel Label? Let's share your thoughts in the comments!