Google Helpful Content Update December 2022
Google Helpful Content Update December 2022
Google rolled out the December helpful content update for its helpful content system in Dec 05th of August. This is the first major big update to the helpful content update that was launched on August 2022. This rollout was started on December 5th and it's becoming more visible in search results.
Google officially announced on its Twitter page that the " Dec 2022 helpful content update was released Dec.5 and will take 2 weeks to roll out fully"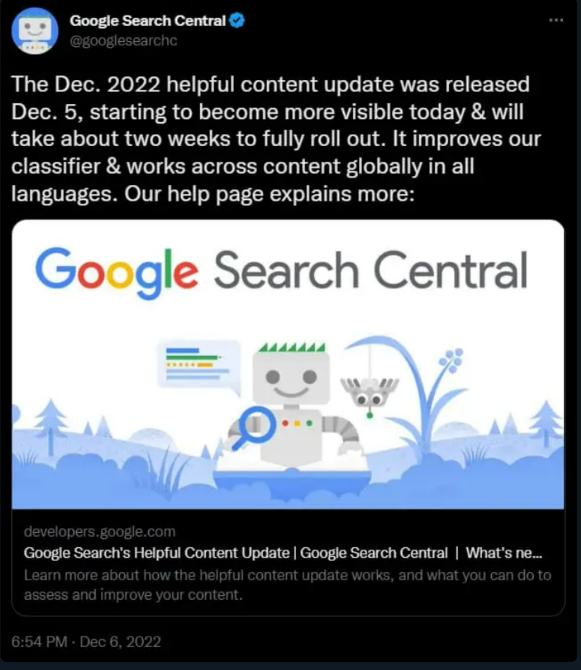 What has been added to this new version?
Helpful content update is now global, it impacts all languages not just English. The goal of this update is to surface more helpful, informative, and useful content in search results. The additional signals help Google system to identify the low-quality content that was created for search engines, not for the real audience.
The main purpose of the Helpful content update is to help searchers find "high-quality content". This algorithm downgrades the search engine first content or SEO content which is purposely written to manipulate the search engines and promote the content which provides more helpful content, designed for humans, above search engines in the search results.
If you are hit by this algorithm, it will get several months to recover if you do all the things mentioned in the search engine guidelines for your content and make it more useful informative content for the audience.
If you notice any big changes in ranking or visibility over next two weeks, you can relate this change with this update and you're hit by this new rollout. To recover your website and make it more human-centric instead of search engine centric you can contact me via verginiya.primeone@global.
Hi Verginiya,
As you mentioned, It is a Big news and it's so great that Google is announcing about the updates to the HCU. "This update adds new signals as well as it brings the helpful content update globally for all the languages.
Well, hopefully this won't mess things up for those websites that actually do provide valuable content.