Google Completes Transition to Mobile First Indexing
Google Completes Transition to Mobile First Indexing
Google announces that after nearly 7 years of a long time, Google has officially completed its transition to Mobile-First Indexing. It means now Google will officially prioritizes mobile versions of sites when crawling and indexing.
"Over the years, mobile web traffic has continued to grow; in some regions, people almost exclusively use their phone to access the internet. Thank you – site owners, SEOs, web developers, designers, and everyone who works on websites – for helping to make the mobile web a success!"
Google started mobile first indexing before 7 years on 2015 as more and more users began to access the internet from their mobile devices, they always prioritize to deliver extreme customer experience over the mobile devices. and Google introduced Mobile First Indexing back on 2016 and it take a long time to complete the transition.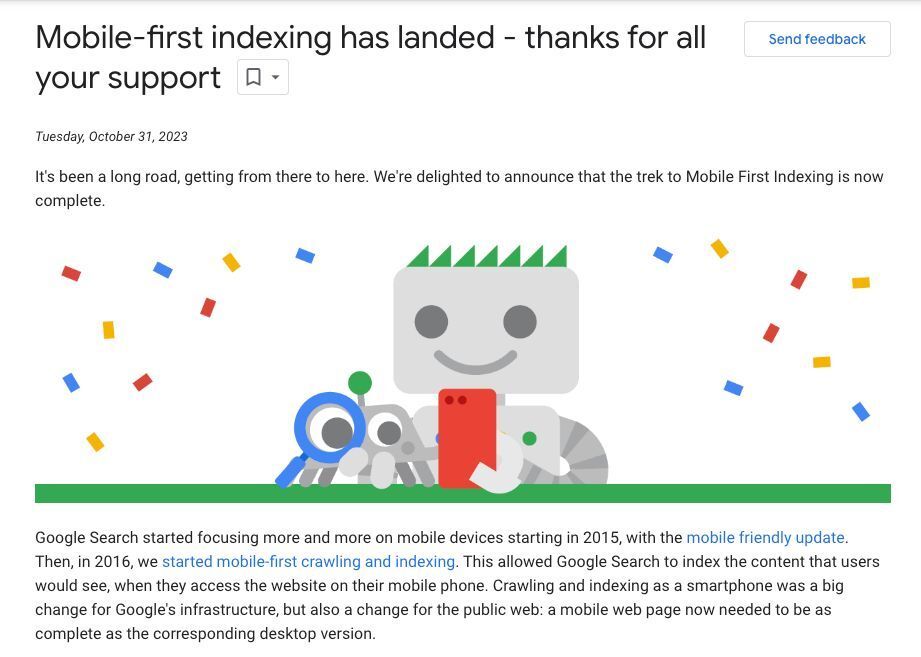 What's Next?
Moreover they stated a small number of sites still do not function properly on mobile. For those sites, Google will keep crawling the desktop versions for now and will re-evaluate the list a few times a year. And they will  continue to reduce  crawling with legacy desktop Googlebot as much as possible to save resources for site-owners.
Changes to Google Search Console
Google also announced that it will be turning off the indexing crawler information in the settings page in the Search Console because this information is no longer needed since all websites that work on mobile devices are crawled by mobile crawlers.
Webiste owners check out the Google's recommended check  mobile indexing best practices.